These lovelies will thrive and gratify novice gardeners with little knowledge or effort. All are low-maintenance and give a dash of colour and delight.
We start off with our title image plant: A Phlomis russeliana. Recently we have seen these buttery yellow blooms pop up in the city of Amsterdam, especially en route to the Museumplein you can enjoy them alongside the street under the big, old trees. They are hardy and sturdy plants that will grow in any soil. Pollinators love them and humans, too. You can combine this one well with a contrasting blue, like Ajuga reptans "Burgundy Glow" or an annual, like Borage. 
Anemone hybride "Honorine Jobert" is part of the Ranunculaceae family. This Japanese anemone hybrid cultivar spreads by creeping rhizomes and likes a moist soil. It looks best when it is massed as you can see in our photograph. Since it is a white and dainty flower it would do well to combine it with dainty and tall colourful neighbours. Or plants that have spotted and large foliage, like hostas.
This Bergenia's name fits its colour perfectly as it is called "Morgenröte" – Dawn. And if you have been out and about on an early summer morning when the sky is waking with a pink glow, you will recognise the colour and its charm easily. This cultivar has been awarded the Royal Horticultural Society Award of Garden Merit and it is a true sight for sore eyes throughout spring. Conrad Moench, who gave the plant its taxonomic name, payed homage to German botanist and physician Karl August von Bergen by coining the name Bergenia in 1794.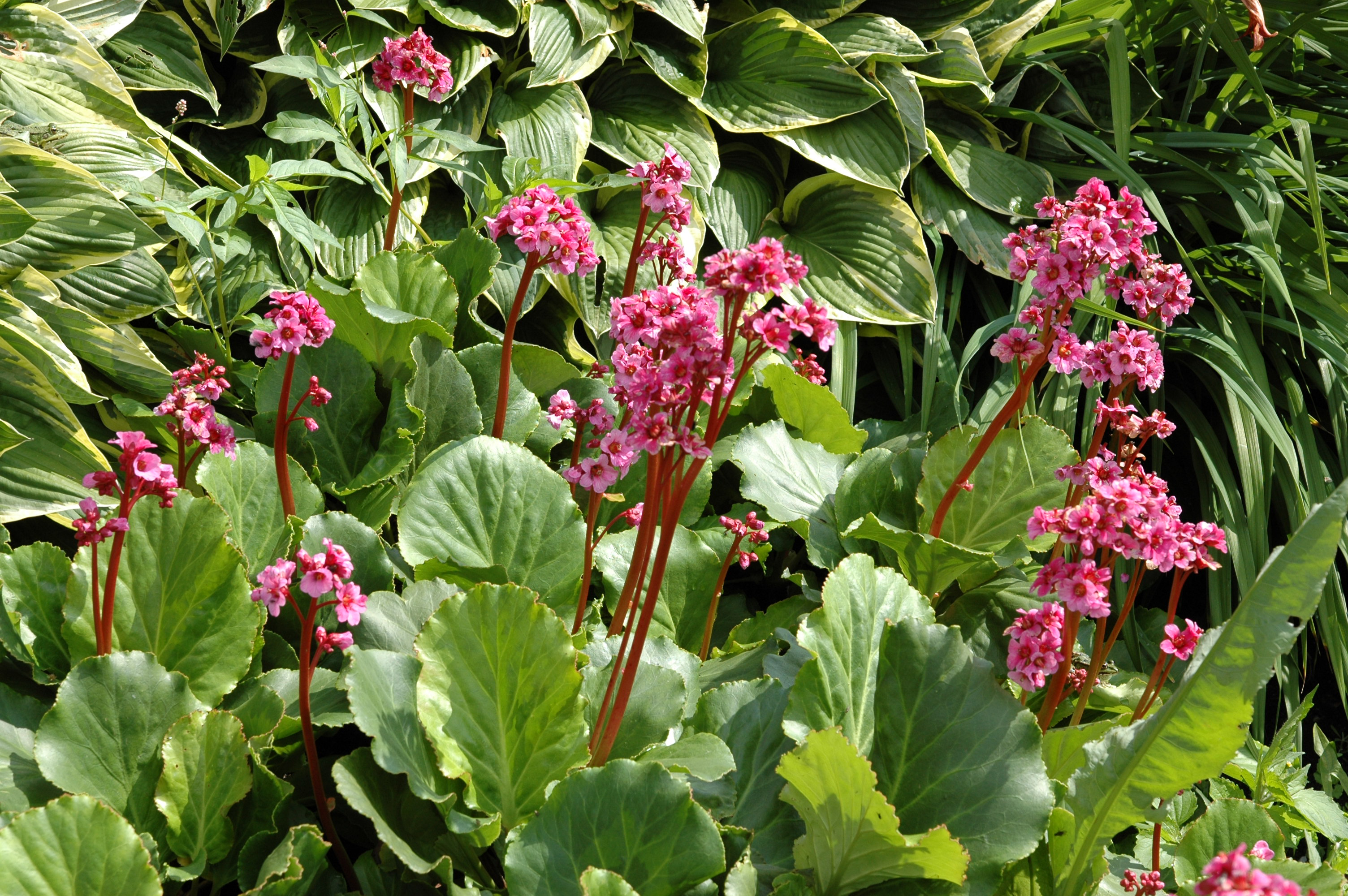 Amongs the many fuchsias out there Fuchsia magellanica gracilis is a gift to behold when blooming with its countless greaceful bellshaped flowers. The wavelike branches could almost emmerce a sound when the wind caresses them.
As such the plants may be exposed to windy conditions. Don't pair this beauty but give it a center stage to delight with its longlived blooms and splendid, lush green foilage.
Roses and lavender, is a picture many of us have in their mind. Creating contrasts can be such a joy and exhilarating task.
And don't get us wrong, they do make for a great pair. 
But how about pairing roses with Nepeta "Walkers Low"? It's sturdy,  easy and lush – and this is what we are going for here.
"Walkers Low" was Perennial Plant of the Year 2007 and blooms all summer long (unlike lavender may we say…) with fantastic periwinkle blue flowers that should really be admired from close up. 
The plant grows elegant and tall and is a sensuous addition to any herbal garden. 
Hakonechloa macra 'Aureola' is a versatile grass. In fall it has an eye-catching red glow. It makes for an excellent plant in the border but can also be used as an ornamental container plant. The flowers are not boastive and leave the show-casing to the beautifully painted leaves. It is best to plant in spring to provide ample time for rooting before winter for a healthy grow the following year. If you would like to play with contrasts place it alongside big grey volcanic rocks.  
Isn't Fountain Fleece making you think of sheep? 
And in a way these intense red fluffy spikes do look like wooly annimals atop heartshaped leaves. 
They are pretty paired with other varieties from the same family but also great when underplanted with bulbs for a pop of colour in spring. Or offset with grasses to create a more romantic effect.
This particular Persicaria amplexicaulis "Blackfield" has a darker sheen and tends to be a tad taller than its relatives. 
We couldn't resist adding this Rudbeckia fulgida "Goldsturm" to the lot.
How could anyone really?
Look at this lush display of golden glowing yellow! It's uplifting to the spirit. Especially on a gloomy day after returning from a tiresome and long day at work these happy, radiant umbrellas will immediately place a smile on your face.
This happy little camper makes a great addition to a cutting garden. The flowers keep well and really pop in a vase.
If you don't deadhead them they will also provide seed to birds in winter. Win-win for all of nature's creatures!
Geraniums are growing in popularity. And that is not surprising given their versatility. They can go a long way in a cottage style garden and allow for pairing with many different plants, annuals, perennials, trees and shrubs alike.
In our photograph you can see how tulips add a pop of colour and hight to this border. Geranium maccrorhizum 'Spessart' has lovely pinkish flowers and beautiful foliage that before it fades away in fall turns into an alluring bronze. This is a demure beauty to covet.
We close off our journey with a Salvia nemerosa. This is "Mainacht" – A Night in May. And if you ever wanted to associate a flower with a soft and loving night in the month of May, then there is no better. The aroma of the leaves is divine as are the purple-blue blossom spikes. Deadhead for longer bloom, it will be worth your while and make you yearn for a swift return of spring the next year…